Aug 23 2008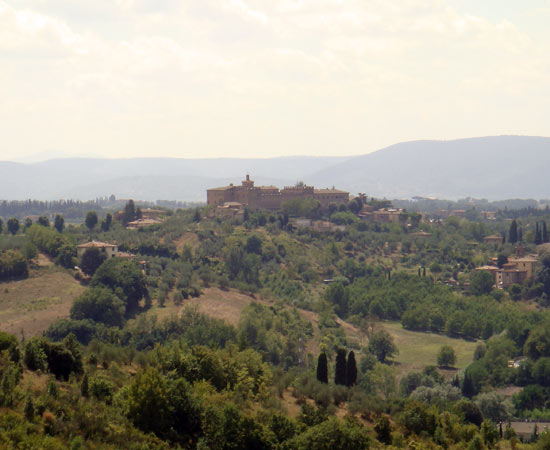 Okay, so bear with me here. We're getting close to the end of this little tour of Italy and France.
Driving on from the coast, we wound our way inland into Tuscany to the fabulous hill city of Siena, which sits among rolling hills of olive trees and vineyards. Details and history of Siena can be found here, while this site has a number of 360 degree views. After a number of days in the car it was a nice change to camp in a hotel onsite and just walk around.
Siena itself is really cool. It is a major tourist magnet, but interestingly the masses tend to congregate in just a few streets and once you head off down a lesser used street you've got the town just about to yourself. Unfortunately it's all hills, so I got plenty of exercise shifting Sheridan and Mitchell around. But that didn't matter. It was nice to just wander about and explore.
Sheridan had found a website with info about disability access in Siena, so forearmed we were able to bypass the huge queue outside Siena's stunning cathedral and ducked in through a side entrance.
The Siena Palio
We discovered once we were there that a few days later the Palio of Siena would be run. This is an annual bareback horserace around the massive central square, with most of the town's traditional clans (contrada) competing against each other. Although we weren't there for the actual race (there's no way we could have negotiated the massive crowds), in the days preceding there are huge parades of supporters for each contrada, wandering the streets of Siena and singing their traditional anthems. It was really cool to be sitting in a streetside cafe as a mob of yellow-clad Chiocciola ("snail") supporters marched past signing in sort-of harmony.