Feb 03 2009
There is very little about Lebanon's history that is not controversial, emotive or disputed by parties within Lebanon or challenged by its neighbours. Activities during the 1975-1990 civil war, and issues relating to Israeli involvement here, are particularly contentious.
One such example is the prison at Khiam. Located several kilometres from the Israeli border, the town of Khiam has had a difficult recent history. On a number of occasions it was the target of Israeli air and ground assaults, most recently in the mid-2006 war. I know one person whose family home there has been bombed and rebuilt three times. Khiam has a commanding view of the surrounding countryside – to the south is the green agricultural lands of Israel, to the east towers majestic Mount Hermon, and to the west across the Litani river is the incredible Beaufort castle.
But perhaps the most notorious thing that Khiam is known for is its prison. Built in the 1930s by the French colonial authorities, the prison was run by the Christian South Lebanon Army during the civil war and until the withdrawal of Israeli forces in 2000. During this time it became notorious for torture and severe human rights abuses and was cited repeatedly by the ICRC and Human Rights Watch.
Following the withdrawal of Israeli forces Hizballah took over the prison, converting it into a museum. The prison was bombed by the Israelis during the 2006 war and much of it was destroyed. At the same time Israeli strikes also hit a UNTSO outpost just outside the prison, killing four multinational observers.
Even though much of the prison is now rubble, you can still tour the site and there are plenty of guides prepared to show you around what's left. Our guide was Abu-Ali, a former prison inmate who explained to us how he and other prisoners were tortured. It's not clear how much of the torture stories are revisionist anti-Israeli propaganda, but it seemed pretty obvious to us that evil things had taken place there and much of what Abu-Ali told us was probably true.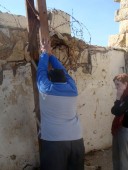 One Response to "Exploring Khiam prison"
#

grandad

on 05 Feb 2009 at 4:18 pm

Prisons are never fun, necessary yes but without torture. OOps I forgot, Australia in its entirity was considered a prison but perhaps as the convicts didn't have barbies or cold beer it was pretty rough.
Leave a Reply