And onwards to Aleppo. But since it's a fair drive from Krak des Chevaliers, why not a quick stop enroute at the dead city of Serjilla?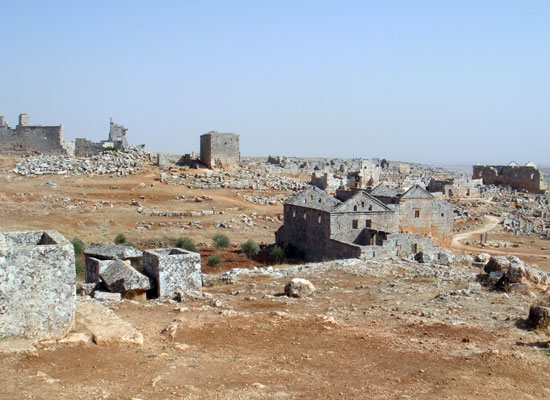 What are the "dead cities"? Well, as wikipedia will tell you, the dead cities are a collection of settlements south of Aleppo dating back to ancient times and completely abandoned for the past 1500 years. Unlike most ancient ruins, which tend to be filled with grand and impressive temples, ampitheatres, columns and statues, the dead cities look more like recent ghost towns. The buildings are pretty similar to our own – there's lots of two storey terraces with A-frame roofs for example.
Aleppo
Aleppo, the second largest city in Syria, is most famous for two things: its market (the souq), and the ancient citadel that towers over the whole city. It has been occupied continuously since about 5000BC, making it one of the oldest cities in the world.
At the heart of the city is the citadel. The castle crowns an extraordinary hill jutting out of the ground, almost as dramatically as Uluru. Although there's been fortifications of some form here since the 9th century BC, the current citadel was constructed in the 12th century.
While the exterior walls are well preserved, the same can't be said for the interior. Much of the top of the citadel is rubble or poorly executed renovations, including an ill-advised concrete faux-ampitheatre.
Looking beyond the citadel, Aleppo's Omayad mosque is only 15 years younger than its cousin in Damascus, dating originally to 715AD. Yet while the minaret is original, much of the rest has been rebuilt. Still, it's a beautiful spot.